Rainbow Trout of Lake Roosevelt
By: Mike Carey
One of the benefits of running a web site on this state's fishing lakes is that there is always a new lake to go explore. We are blessed with thousands of lakes in this state. You could spend your whole life fishing new lakes and still find another one just around the corner.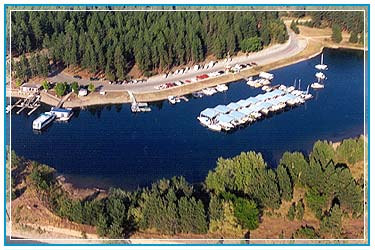 I'd heard of lake Roosevelt and it's monster rainbow a few years back. Triploids and naturally spawning fish that run to ten pounds plus. In the course of my travels to new lakes, I'd kept this one in mind. One day, I said to myself, I will fish this lake.
That day arrived November 6th. Guide Lennie Mayo (J.L. Fishing Guide Service) had invited me out to target the winter rainbows. I will admit, my first thought was who wants to spend a day on a cold boat catching rainbow trout? Well, I'm glad my first thought wasn't my last, because I'm here to tell you that lake Roosevelt ROCKS! The fishing wasn't just good, it was very good. But I'm getting ahead of myself. I will tell you this up front - if you have doubts about fishing lake Roosevelt in the winter, put them aside. Winter may just be the best time to hit this lake.
I met Lennie and James Cummings at 8 am and we put Lennie's boat in. He recently purchased a beautiful 24 foot Raider with enclosed, heated cabin. The boat is pure comfort - warm, nice seats, smooth ride. Lennie has the boat decked out with Scotty downriggers and first rate electronics. We launched out of Seven Bays and motored over to Sterling Point, about ten miles away. The scenery on lake Roosevelt is among the best this state has to offer. Towering cliffs and deep canyons greet you at every turn. Deer wander the hills and eagles soar overhead.
As we got our gear set up Lennie noted that they had good luck in this area recently, but that fishing is generally consistent throughout the lake. "If you find the zooplankton you will find the fish", he said. Our technique for today was leaded line with streamer flies and a chunk of night crawler on the business end, topped off by a squirt of Grandpa's Fish Attractant. We set our trolling speed fast - 3 1/2 to 4 mph, and let out 165 feet of line. Now, I know that guides know their business, but I must say I was a bit surprised by these streamer flies. No small dodger? No spinning blades? Hmm, I thought, this will be interesting. Voicing my doubts, Lennie explained that in winter the rainbows tended to stay in the top 8-10 feet of water. Also, he said that the cold did not make the fish lethargic. Indeed, part of getting these fish to strike included not just a fast troll but also doing a variety of s-turns and speed adjustments. As Lennie put it, "if you think you're going! too fast check your speed and go faster."

Our first fish of the day.

It wasn't five minutes before my reel's clicker started screaming with the announcement of a solid rainbow on the other end. After a nice fight we had a chunky 19" rainbow in the boat. Wow, what a great fish! It was a beautiful first fish and was followed over the course of the morning by six other rainbows, ranging in size from 12" to 19". All bright, and firm fleshed. Lennie told me that these rainbow were among the best tasting rainbow you could catch as the zooplankton gives the flesh a deep pink/red tone and a taste unlike the planted trout we are used to eating in the smaller lakes (I later confirmed this statement with my sons as we enjoyed one of the fish I brought home).

We called it an earlier day as James had only wanted to keep a couple of fish and I had my limit by noon. A morning's fishing was enough for me to see how great this fishery is. We shared the area with a couple other boats and they had nets out as often as we did. The nice thing about winter fishing is that you don't have to get up at the crack of dawn. The fish will bite throughout the day. And, limits are the rule on lake Roosevelt. But not limits of 8-12" fish, limits of 12-20" fish with the possibility of landing that trophy ten pounder always just a bite away. And although we were targeting rainbow this day, there are plenty of other species to fish for, from walleye to kokanee to bass, and freshwater burbot as well. Different times of year you'll want to target different species. Winter is definitely a rainbow show.

Fish On!

One thing I haven't mentioned - the pens. Washington has done a great job of stocking this lake with trout. There are trout pens scattered throughout the lake's 150 miles. This year 500,000 fish were released during May/June. Those fish that were released from the pens at 8 inches are now 12 inches plus. They grow quickly on the zooplankton and bait fish that live in the lake. And, because this lake isn't a stone's throw from the west side of the state, the fishing pressure is relatively light. This is not a put and take fishery! A lot of the planted trout (including some triploids) have a real chance to grow into brute-sized rainbow.
So there you have it. A winter rainbow fishery for excellent eating fish plus the real chance at some trophy rainbows. A bit of a drive from the west side, but very close for east side anglers. This is one place you will want to add to your list of must fish lakes. I haven't even mentioned the huge kokanee and walleye that swim in lake Roosevelt. But that's for another trip and another story.
November 6, 2002

Mike Carey, Editor
www.WashingtonLakes.com